-All our steel doors are identical on 2 sides
-We use extra-slim profiles for a more beautiful end result
-Powder coating gives a hard-wearing and maintenance-free finish
-Professional quality pivot hinges
-Our steel doors are maintenance free and suitable for intensive use
-Look for the assembly video on YouTube
For a door, the dimensions are corrected including the space required for the adjustable hinge (the door itself is therefore slightly smaller). We deliver a complete steel door and/or steel window as a kit. Easy to assemble yourself. Watch our assembly video for tips and tricks. The delivery time is usually around 4 weeks. Are you looking for steel doors? Then come soon to Hardhout Discount. Our steel doors are 100% custom made.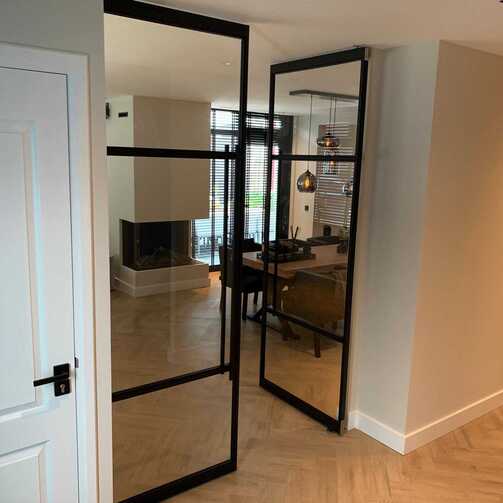 We make doors with a pivot hinge. This allows our doors to open to both sides and remain open. The doors close automatically and smoothly due to the pivot hinge.
We are a manufacturer and supply a high-quality product. We manufacture each steel door or steel door under our own management, which means that quality and delivery time are guaranteed. We protect all steel doors or frames with a wear-resistant powder coating, which provides protection for many years.
The process
Making a steel door is a complicated process. Each door must be exactly square and well finished in order to work properly for years.
A steel door is not a standard size and everyone has their own wishes. Steel doors give a home or business premises the atmosphere and ambience you would like to create. Think of beautiful industrial steel doors.
The costs are higher than for a traditional wooden double door or overlay door. The costs therefore differ enormously from one supplier to another. This is partly due to the quality of the materials and the finishing. The price depends on which type of door you choose and the amount of material required. The number of working hours is also an important factor. The steel door price is higher for a pivot door and for a sliding door than for a revolving door. We recommend making a calculation in our calculator. As soon as all data are entered in the calculator, the price and image are shown.
Making a steel door
Making a steel door yourself is not recommended as it is quite a complicated process. Certainly not everyone can do it. A perfect finish is necessary. This also applies to the right materials. Making a steel door to size can only be done professionally. We have no standard sizes in stock. Every door in a home or business premises is different, which is why we have a handy steel door calculator. Our doors are available as revolving doors, pivot doors and sliding doors.
Steel door with frame
You can also contact us for a steel door with frame. These are also made of steel and available in different colours. You can easily choose these colours and dimensions in our calculator.
Steel doors at home
We deliver directly to your home. These steel interior doors can also be used as exterior doors. Steel doors at home are often used as steel double doors or steel French doors. The steel double door or steel French doors, are offered on our site. Here you can choose from steel pivot doors, later this year also steel sliding doors and steel hinged doors. You can also choose to have hardened glass placed in the metal doors. This choice is offered to you on our calculator. Choice of 2, 3, 4 or 5 compartments with hardened glass.
Steel windows and doors
Our steel windows and doors have a chic look, but also a powerful and tough appearance. This will create an industrial atmosphere in your home or business premises. The steel windows and doors are made of metal including hardened glass.
What do steel doors cost?
Our standard colour is black steel doors, but steel doors with glass are also manufactured in-house and we buy in bulk. This allows us to keep the costs under control. We keep our prices low because we have optimised the construction of our internal and external steel doors. As a result, we are more efficient with time in the production process.
What is the price of a steel door? And how can I calculate it? For the answers to these questions, we refer you to our calculator. The price depends on the type of door you choose and the amount of material required. The calculator shows the price and the possibilities within a few minutes.