Click on + or - to order the number of square metres m2
Or click on our handy Calculator:
Then the entire deck, including joists, woven ground cover and foundation posts will be calculated within 2 minutes.
Click here for the Calculator, your project will be calculated within 2 minutes.
| | |
| --- | --- |
| PRODUCT SPECIFICATION: | |
| Wood type: | BANKIRAI |
| Dimensions: | 2.1 x 18.5 cm |
| Lengths: | Lengths 0.90 / 1.20 / 1.50 / 1.80 m1 |
| Profile: | Flattened |
| | With click system |
| Expansion gap: | Approx. 5 mm expansion gap |
| | between the boards |
| Mounting: | Quick and easy |
| Quality: | High - luxurious look |
| Durability: | Long, 30 years or more |
| | |
| FREE: | Mounting strip |
| FREE: | Screws + bit |
Mounting strips
The mounting strips are screwed to the bottom of the decking board. These are installed under the surface of the terrace, on the joists. Screw the mounting strips to the decking board, turn the decking board around to slide the strip under the previous decking board, and screw the mounting strip to the joist. This will give the project a screwless end result.
Advantages of mounting strips
The metal mounting strips provide extra stability of the wood, they keep the decking board very well in place. There is also no more wood on wood contact since there is a mounting strip between the decking boards and joists. This will provide extra ventilation and extends the durability of the hardwood.
Screws are no longer visible at the surface of the decking boards. Pre-drilling is not necessary, the special decking board screws have a drilling point, so they can be easily screwed into the hardwood.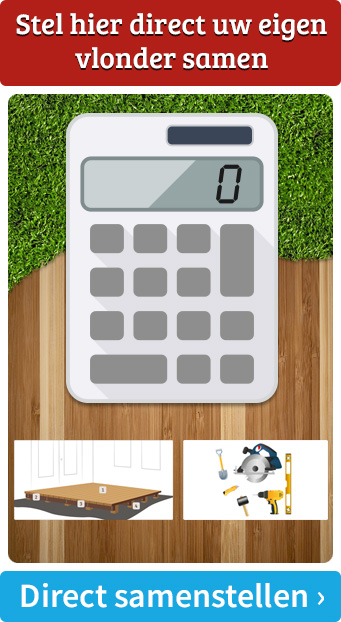 Price per square metre (m2)
Free mounting strips, screws and bit
We deliver enough boards to install the ordered square metres. For this product you receive free mounting strips, screws and a bit. We deliver various wood lengths, but a minimum of 2 lengths. We sell this product per m2. When mounting, laying the boards in a random "wild bond" pattern has the nicest finish, see photos to see the end result. We advise to always order approx. 10% more wood, there is always some cutting waste.
Hardwood foundation and woven ground cover
The only things you still need are hardwood joists, foundation posts and a woven ground cover. The foundation posts provide a good foundation under the deck. That way the deck won't bend or sink. We advise a distance between the joists that is not bigger than 40 cm. We advise to use 3 hardwood foundation posts per square metre deck.