Click on + or - to order the number of square metres m2.
The red bar immediately shows the number of square metres (m2) for the deck.
Or click on our handy Calculator:
Then the entire deck, including joists, woven ground cover and foundation posts will be calculated within 2 minutes.
| | |
| --- | --- |
| PRODUCT SPECIFICATION: | |
| Wood type: | BANKIRAI |
| Dimensions: | 2.1 x 14.0 cm |
| Lengths: | Length 0.90 m1 |
| Profile: | Flattened + Grooves |
| | With click system |
| Expansion gap: | Approx. 5 mm expansion gap |
| | between the boards |
| Mounting: | Quick and easy |
| Quality: | High - luxurious look |
| Durability: | Long, 30 years or more |
Klik hier voor montagetips voor het maken van een vlonder
Free advice and help from our Advisory team
Tim, Marco, Tom and Manon are at your service
REAL Bankirai
Building a deck out of real Bankirai wood is a good choice. Bankirai is a strong hardwood, with a brown to dark brown colour and a straight grain. Bankirai is quite hard-wearing and has a solid wood structure, pre-drilling is necessary to prevent wood from splitting. This type of hardwood does not absorb moisture quickly and therefore remains stable. It has a long durability of approx. 30 years or more.
Hidden or visible screws
In the main menu on the homepage, you can select 2 ways to make the right decking selection in the grey bar under 'Decking'.
click here for -> decking boards invisibly screwed
click here for -> decking boards visibly screwed
Process + wood click system
It is easy to lay each decking board in the longitudinal direction. Each decking board has a so called tongue or groove at the ends of the board, we call this a wood click system. This makes it easy to lock each board into place. It is not hard to install this product with little experience. This system is as simple as laying a laminate flooring.
The ends of the board don't necessarily have to meet at a joist. The click system is strong enough to prevent bending between the joists. When mounting, there will always be remaining parts left, the cut-off pieces. They can be used if they have a minimum length of 45 cm and if the decking board can be fastened to at least 2 joists. Make sure there is a minimum expansion gap of 5 mm between the boards.
Or use our Mounting strip
To hide the screws in the boards.
Mounting strip for no visible screws - clickhere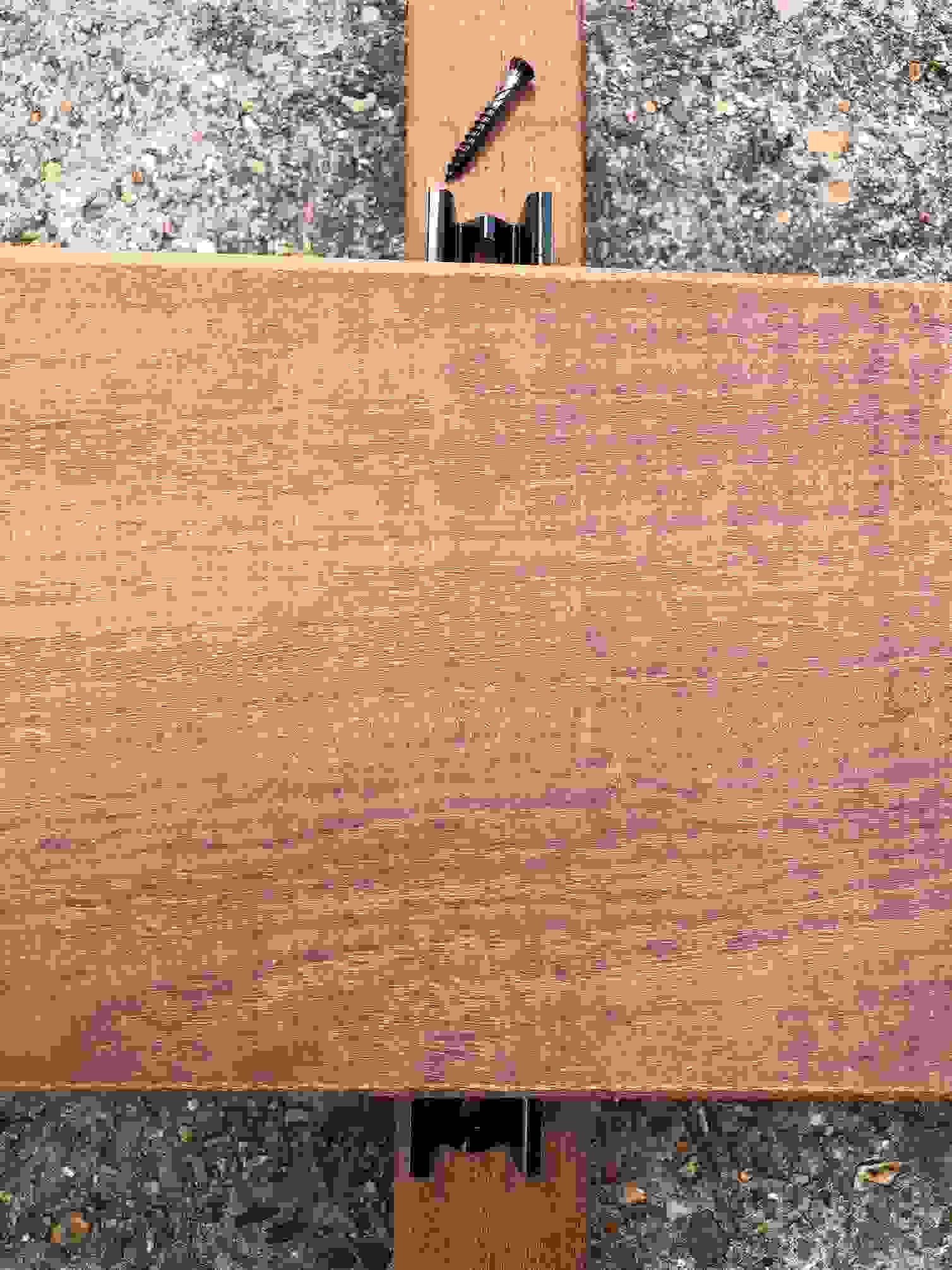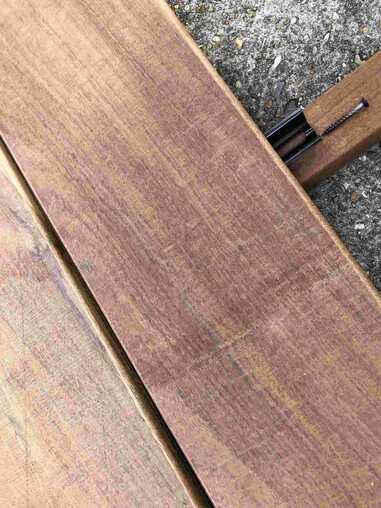 Price per square metre (m2)
We deliver enough boards to build the ordered square metres. We deliver wood lengths of 1.20 m1. We sell this product per m2. When mounting, laying the boards in a random "wild bond" pattern has the nicest finish, see photos to see the end result. We advise you to always order approx. 10% more wood, there is always some cutting waste.
Hardwood foundation and woven ground cover
The only things you still need are hardwood joists, foundation posts and a woven ground cover. The foundation posts provide a good foundation under the deck. That way the deck won't bend or sink. We advise a distance between the joists that is not bigger than 40 cm. We advise to use 3 hardwood foundation posts per square metre deck.
Need help to calculate a deck?
Our calculator calculates easily and quickly
The amounts and lengths of the joists, foundation posts and screws.
Needed to achieve your project.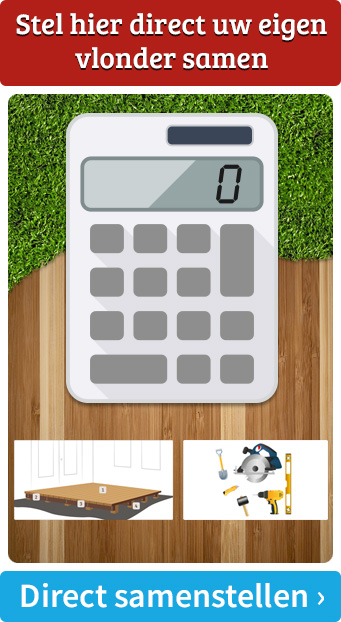 Order large quantities?
Send an email to info@hardhoutdiscount.nl for the price of a full stack. The price of a full stack is cheaper instead of price per unit.
A full stack has a minimum volume of approx. 90m2 or 100 units.
The professional user
Are you a horticulturist, contractor or do you have a carpentry business?
Register your company now as a business customer, because you can get up to 10% off on the entire selection.
We have the largest stock of hardwood in the Benelux.
You no longer have to come with a trailer, we deliver to your working location for free.
Ordered on business days before 12:00, delivered the next business throughout The Netherlands.
Business registration - click here
Product category
Wood lengths up to 3.00 m: L
Wood lengths longer than 3.00: XL
The shopping cart automatically shows the right category.